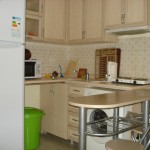 FIVE BEDROOMS AND ONE LIVING ROOM with GARDEN, 120m2 FURNISHED FLAT FOR RENT IN ISTANBUL – HARBIYE – TAKSIM (Also suitable for 5 People or Erasmus Students for long term monthly rentals. Up to 6 people for short term rentals)
ROOMS (R1, R2, R3, R4, R5)
Entrance floor apartment with a small garden, five bedrooms, one living room, individual kitchen, two individual bathrooms with shower and WC.
Sqm: 120 m2
NUMBER of BEDS
Five single beds, up to 6 people can live. Enough beds and foldable sofas for people living in the apartment. There is also one foldable sofa in the LIVING ROOM.
Contact Phone: +90 555 638 52 32 (whatsapp,viber, telegram)
Contact Email: info@studioflats.info
LOCATION OF THE APARTMENT

☞ Click here to check the distances to the universities from our apartment.
This flat is near Taxim and Nisantasi. Nice flat for short term and also for long term tenants, erasmus students, exchange students or academicians. The flat is 10m to the main street. Our fully furnished five rooms and one LIVING ROOM flat has one small GARDEN, a kitchen and two bathrooms with Wc and it is for rent in Harbiye which is near Nisantasi and also near Taksim and Istiklal Caddesi. Five minutes to Nisantasi and 5 minutes to Beyoglu-pera where there are many shops, cafes, stores, restaurants. It is less than 5 min to Sisli, 10 min to Mecidiyeköy and 20 min to Taxim. There are many charming cafes, restaurants, shops and stores located in Beyoglu and in Nisantasi where our flat is located near by. You can commute easily to old city Sultanahmet area with tram or metro.
VIDEO OF THE FLAT: 
FURNITURE
1 foldable sofa, five single beds, refrigerator, washing machine, ADSL Internet connection, vacuum cleaner, armchairs, six chairs, iron, TV with remote control, wardrobes, bed sheets, bed covers, pillows, dining table, glasses, plates, pots, pans and dishes, fully furnished.
FEATURES
Airconditioned apartment. All floors are ceramic, modern full kitchen, central heating for heating and electrical boiler for hot water. Decorative bathroom ceramics, bathroom accessories. There exits cleaning service if needed.
Floor: Entrance floor
Max. Occupancy: 5 people (Maximum 6 people possible with extra bed)
AVAILABLE DATES
PLEASE ASK AVAILABLE DATES TO US BY EMAIL OR BY PHONE
This flat is only available for minimum MONTHLY or YEARLY short and long term rentals.
Contact Phone: 0090 555 638 52 32 (whatsapp, viber, telegram)
Contact Email: info@studioflats.info
PICTURES:
☞ Check the university distances below:
☞ Acıbadem University
☞ Bahçeşehir University Besiktas Campus 10 mins(by transportation)
☞ Beykent University 25 mins(by transportation)
☞ Bezm-i Alem University
☞ Boğaziçi University North Campus 15 mins (by transportation)
☞ Doğuş University
☞ Fatih Sultan Mehmet University
☞ Galatasaray University 10 mins(by transportation)
☞ Haliç University 20 mins (by transportation)
☞ Işık University 70 min by University Shuttle Bus
☞ Istanbul 29 Mayıs University
☞ Istanbul Arel University
☞ Istanbul Aydın University Kucukcekmece Campus 65 mins *metrobus (by transportation)
☞ Istanbul Bilgi University Dolapdere Campus 5 mins (by walking)
☞ Istanbul Bilgi University Santral Campus 15 mins (by Shuttle Bus)
☞ Istanbul Bilim University
☞ Istanbul Commerce University – Istanbul Ticaret University 25 mins (by transportation)
☞ Istanbul Kemerburgaz University 55 mins (by transportation)
☞ Istanbul Kültür University  55 mins (by transportation)
☞ Istanbul Medipol University
☞ Istanbul Medeniyet University
☞ Istanbul Sabahattin Zaim University Halkalı Campus
☞ Istanbul Şehir University Altunizade Campus 40 mins *metrobus (by transportation)
☞ Istanbul Technical University Gumussuyu, Taskisla, Macka Campuses 7 mins by walking
☞ Istanbul Technical University Maslak, Ayazaga Campus 17 mins with subway(metro).
☞ Istanbul University Avcilar Campus 55 mins *metrobus (by transportation)
☞ Istanbul University Beyazit Campus 20 mins (by transportation)
☞ Kadir Has University Campus 15 mins (by transportation)
☞ Koç University Sarıyer Campus 50 mins *metro+Dolmus (by transportation)
☞ Koç University Hospital Topkapı Campus 35 mins *metro+bus (by transportation)
☞ Maltepe University 80 minutes (by transportation)
☞ Marmara University Göztepe Campus 65 mins (by transportation)
☞ Marmara University Bahçelievler Campus 40 mins (by transportation)
☞ Marmara University  Nişantaşı Dentistry Campus 15 mins (by walking)
☞ Mimar Sinan University of Fine Arts 10 mins (by transportation)
☞ Nişantaşı University Maslak Campus  30 mins (by transportation)
☞ Nişantaşı University Nisantasi Campus  10 mins (by walking)
☞ Okan University Beyoğlu Campus 10 minutes (by walking)
☞ Okan University Tuzla Campus 110 minutes (by transportation)
☞ Özyeğin University 75 minutes (by transportation)
☞ Piri Reis University 75 minutes (by transportation)
☞ Sabancı University 70 min by University Shuttle Bus
☞ Yeditepe University 65 mins (by transportation)
☞ Yeni Yüzyıl University 30 minutes (by transportation)
☞ Yıldız Technical University Beşiktaş Campus 15 mins (by transportation)
☞ Yıldız Technical University Davutpaşa Campus 30 mins (by transportation)
Posted by Istanbul Apartments
Filed under: 4 Room Flats, 4 Rooms Flats, 5 Room Flats, 5 Rooms Flats, 6 Room Flats, 6 Rooms Flats, ALL AVAILABLE FLATS, ALL AVAILABLE ROOMS, APARTMENT LOCATIONS, Erasmus Apartments, ERASMUS APARTMENTS & ROOMS, FLAT CHARACTERISTICS, Furnished Apartments, Furnished Rooms, Harbiye Flats, NUMBER OF ROOMS, Rooms in Shared Apartments, ROOMSHARE APARTMENTS, Sublets, Taksim Flats, Taksim-Harbiye Flats, Taxim Studio Flats, WG Wohngemeinschaft